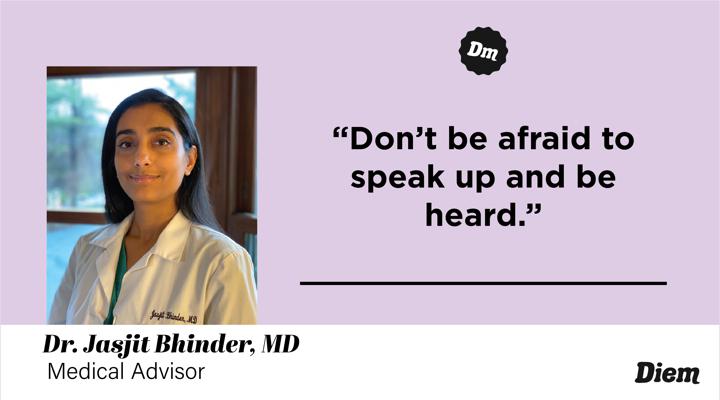 Next up on our #DiemTeam introductions, Dr. Jasjit Bhinder! It's very important to us at Diem that womxn's health is viewed as a whole and not just in the context of our reproductive capabilities. Dr. Bhinder is an expert in heart health and incredibly passionate about changing the state of womxn's health today. We're so lucky to have her on the team! 
DIEM: Tell us a little about yourself!
JB: I am from upstate New York. I went to college at Princeton University for my undergraduate degree and I majored in molecular biology. From there I went to St. George's Medical School which is based in Grenada. However, the first year I did a global scholar program and I did my first year in Newcastle, England which was amazing because I travelled a lot! Afterwards, I spent a year in Grenada and did my clinical rotations in Brooklyn. I did 4 years of residency and chief residency in St. Luke's/Roosevelt in Manhattan. I completed my 3 years of cardiology fellowship training at Westchester Medical Center. Currently, I am finally doing my last and final year at Yale New Haven Medical Center - I am an Advanced Heart Failure and Transplant Cardiology Fellow! 
DIEM: What are you doing to remain calm during this time? How are you taking time for yourself?
JB: Exercise and meditation! There was not a lot to do during the pandemic and I found that my previous routine became a little more regular. I had more time to get things in order and clear my head. I also started using Headspace to do meditation sessions. These were wonderful because I am so busy with work that sometimes the gravity of what was happening in the ICUs during the pandemic didn't hit me until later on. The meditation sessions though helped immensely and I still continue it today.
DIEM: Heart attacks are the leading cause of death in women today. How do we make sure we remain informed of differences between men and women?
JB: Cardiovascular disease is the leading cause of death in women; annually more women die from heart disease than men. There are certain factors as to why women are typically more affected than men. While women do most commonly feel the typical symptoms such as crushing chest pain during a heart attack, they can also present with atypical symptoms such as indigestion, fatigue and nausea. This leads to a delay in diagnosis because it can lead to women not coming to the hospital because they dismiss these types of symptoms and on the provider side they might start working up other conditions. Even after a heart attack, women have a higher mortality than men and are more likely to develop downstream side effects of heart attacks like heart failure. How can we as women try to shift this paradigm? First thing is prevention. Keep your heart healthy with a good diet and exercise. If you have medical conditions that can contribute to heart disease such as diabetes and hypertension, please seek appropriate medical care to address these issues. And always trust your instincts, you know your body the best and if you think there is something wrong there most likely is something wrong.
"

Always trust your instincts, you know your body the best and if you think there is something wrong there most likely is something wrong."
DIEM: How do you tackle the societal standards/pressures of women in the healthcare industry today?
JB: I am often mistaken for a nurse, tech or respiratory therapist when it is usually clearly written on my badge that I am a physician. I am not offended ever to be mistaken for a nurse because everyone on the patient's care team to be integral. What I am disappointed in is that, even in 2020, the assumption is that I am not a doctor. Aside from the patients I have had my fair share of comments from other cardiologists referring to me getting pregnant and about what my husband thinks of my career. I don't think my male colleagues ever receive those same questions. I will admit juggling an active career and family life is hard. This is not unique to women only but we get the brunt of the questions.
DIEM: How has your community of women helped you navigate your health/journey?
JB: In a male dominated field it is so important to find a tribe. I have a group of female cardiologist friends who I am very close to. It is so important to have women who understand the pressures and challenges you face. I also follow female doctors on Instagram and Twitter, and although I may not know them personally hearing their stories or work/life balance, navigating job interviews, doing research really gives me inspiration on a daily basis.
DM DIGEST - Community is so important to us all! That's exactly why we started Diem. Finding a group of womxn who are like-minded and motivated can make the hard times pass much quicker. Make sure that you have someone to lean on when times get crazy. 
DIEM: What's one valuable piece of advice that you can give to the women reading this?
JB: Don't be afraid to speak up and be heard. I fell into a pattern in the beginning of my training for whatever reason that I only answered questions that I 100% knew the answer to or put out my thoughts that were totally formed. I was afraid to be wrong or that people might think what I thought was silly. It got to a point that sometimes I didn't answer or speak up even when I knew the answer or topic well. Meanwhile, I noticed my male colleagues would just literally blurt out whatever was on their minds and move on. I realized that my anxiety of being right all the time was hindering me. I slowly had to retrain myself and I finally started finding my voice. I had to be ok with being wrong sometimes. I found that, regardless of the outcome, I was engaged with conversations and even though my opinions may differ, it often sparked further conversations and people were interested.
We hope you enjoyed getting to know Jasjit. You will be hearing from more of the team in the coming weeks! In the meantime, if you want to join the Diem Community, you can sign up here.
TTYL 👋🏽